🔪⚰️Welcome to the Halloween World!🔪⚰️
This is something for your inner spirit animal, which is just waiting to be seen.
The badass full bodysuit is a perfect embodiment of your original taste in clothing, as it hugs your curves & makes a total statement piece.
It has a flattering form-fitting construction and an invisible back zip closure – nothing beats wearing something so sleek and polished.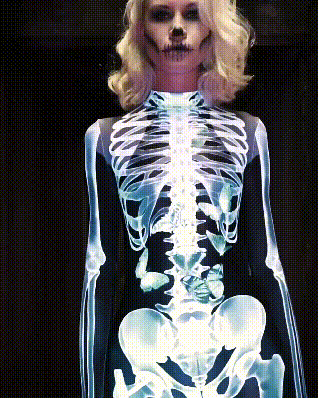 FEATURES:
> Flattering Form-Fitting Construction
> Luxurious & Silky, Non-Transparent Lycra Fabric
> Robust & Hidden Back Zipper Closure
> UV Black Light Reactive
> Flawless Graphics On Both Front And Back
> Saturated Colors True To The Photos
🎃🎃🎃🎃🎃🎃🎃🎃🎃🎃

✂️ WHAT IS THE MATERIAL?
All of my products are made from top quality four-way stretch Italian Lycra®
The fabric structure consists of 82% Polyester and 18% Elastane

❤️ HOW CAN I TAKE CARE OF MY COSTUME?
I assure you, that any item of clothing you own will last longer with hand-washing in mild soap and cold water.
If you don't have time for that, I recommend you to turn your piece inside out and put it in the washer on a cold, short, and gentle cycle (again, inside out to protect the pretty foil/pattern from the thrashing of the machine).
Washing machine: Max 30º 
SIZE