SUITABLE FOR MOUNTAINS AND BACKYARD
Imagine you lying on a hammock under a giant tree and enjoying the beautiful weather outside.
How relaxing it can be!
And for campers and hikers, hammocks can be used as a flexible alternative for camping tents.
Your TierraAdventure AERIAL is comfortable and can be used as easily in the wild as it can in the backyard.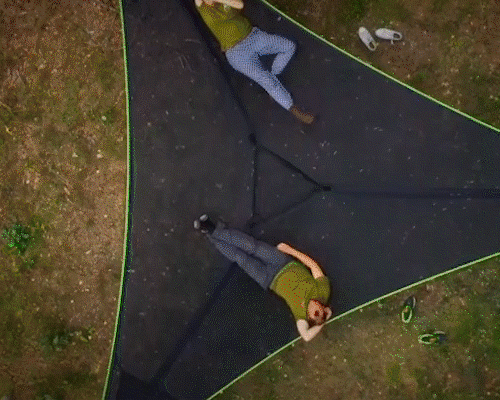 BESTSELLING OUTDOOR PRODUCT OF 2021
➜ Easy To Set Up – 3 Minutes
➜ Compact & Portable
➜ Use Your AERIAL Everywhere
➜ Enjoy Your Leisure Time 
 OUR COSTUMERS LOVES THE AERIAL
"We absolutely love our hammock!"😍
 I knew we had to have one. We ordered the XXL size and have not regretted our decision. The neighborhood kids love to come hang out on the hammock with our kids."
 – Elija Geroa
EASY TO SET UP – 3 MINUTES
Don't let the size worry you, it's just as easy to set-up as all our other hammocks, which makes it perfect for first time tree campers and hammock owners who want something that's going to be easy to set up and unique to camp in.
FOR FAMILIES AND ADVENTURERS
With the revolutionary aerial camping hammock you can escape to the wilderness or set up a unique treehouse in your own backyard.
– No Level-Ground Needed 
The hammock is suspended off the ground between 3 anchor points and so there's no need to find level ground.
Being held above the ground moves you away from damp, uneven or stick/stone covered ground.
 – Stable 
 The straps balance any weight differences and prevent both occupants from rolling towards the middle of the tent or the heaviest person.
Size: 110 x 110 x 110 imch
Capacity 250KG / 550 lbs
What does the TierraAdventure AERIAL include?
✔️ TierraAdventure AERIAL
✔️ 3x Premium Ropes